Middle Township High School Guidance
The MTHS Guidance page will help students and parents locate resources for future college and career endeavors, including program choices, an elective guide, exam information, scholarship information, and much more! Our counselors are readily available for questions to guide students to a successful future.
ACADEMIES, PROGRAMS OF STUDY AND ELECTIVES
MTHS offers four academies:
Business – Middle Township High School's Academy of Business exposes interested students to careers in the field of business, and seeks to prepare them for employment or college/university courses.
Computer Science (STEM) – Middle Township High School's Academy of Computer Science provides students with exposure to careers in the science, technology, engineering, and math (STEM) fields by preparing them for college courses.
Medicine and Health – Middle Township High School's Academy of Medicine and Health provides a rigorous curriculum that emphasizes real world applications for students interested in medical careers.
Performing Arts – The Middle Township High School Academy of Performing Arts balances a student's need for academic preparation and the exploration of their craft in one of five arts majors: Dance, Vocal Music, Instrumental Music, Media and Theatre.
Program of Studies Guide 
School Electives 
MTHS Navy National Defence Cadet Corps Program
NAVIANCE
Naviance is a college and career readiness solution that helps districts and schools align student strengths and interests to postsecondary goals, improving students outcomes and connecting learning to life. Connecting students' interests to their potential career paths early ensures active participation in their own academic success and opens their eyes to the wide world of career opportunities. The career planning tools in Naviance allow students to understand how their strengths, goals, skills, and interests can lead to exciting careers.
Learn More about Naviance & MTHS
SCHOLARSHIPS
Current Scholarships List
Transcript Request Form 
IMPORTANT LINKS
COMING SOON
Incoming Freshman Information
NHS Tutoring
SAT/ACT Information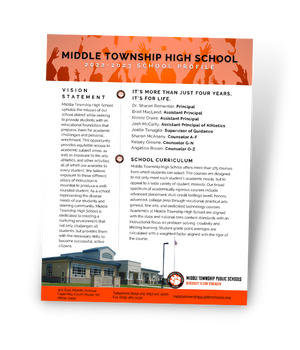 Click the thumbnail above to view our official school profile.
Contact Information
Supervisor of Guidance Services
Ms. Joelle Tenaglia
(609) 465-1852 x5013
tenagliaj@middletwp.k12.nj.us
Counselors
Ms. Kelsey Greene
(609) 465-1852 x5567
greenek@middletwp.k12.nj.us
Ms. Sharon McAnany
(609) 465-1852 x5019
mcananys@middletwp.k12.nj.us
Ms. Valerie Sheets
(609) 465-1852 x5018
sheetsv@middletwp.k12.nj.us
Secretaries
Mrs. Becky Gombar
(609) 465-1852 x5014
gombarb@middletwp.k12.nj.us
Mrs. Doreen Swanson
(609) 465-1852 x5017
swansond@middletwp.k12.nj.us
To register a student, please contact:
(609) 465-1852 x 5017
Guidance
Google Classroom Code: o3djsfx
Ms. McAnany:
Freshmen: @mcananysf
Sophomores: @mcananysso
Juniors: @mcananysj
Seniors: @mcananyss
Ms. Greene:
Freshmen: @greeneco25
Sophomores: @greeneco24
Juniors: @greeneco23
Seniors: @greeneco2
Mrs. Brown:
Freshmen: @2c4b33
Sophomores: @76gk7kb
Juniors: @8f9493f
Seniors: @3df4kd
Class Advisors
Class of 2024
Jodi Lamoreux
Remind: @7k2628
Google Classroom Code: chb5eek
Class of 2025
Jennifer Craig
Remind: @mths2025
Google Classroom Code: dz6x5z6
Class of 2026Maria Woodring
Google Classroom Code: mthsclass2
Google Classroom Code B: mths2026
Class of 2027
Morgan Tridente
Remind: @mt27class & @mt27class2
Instagram @mthsclass27
Facebook: MTHS Class of 2027